Liquid crystalline cellulose derivatives
Many years ago, we discovered (accidentally) that a concentrated aqueous solutions of a commercial water-soluble cellulose ether, (hydroxypropyl)cellulose (HPC) displayed iridescent colours that changed with concentration and viewing angle.
[Liquid Crystalline Structure in Aqueous Hydroxypropyl Cellulose Solutions. R.S. Werbowyj and D.G. Gray. Mol Cryst. Liq. Cryst.(Letters), 34, 97-103 (1976)].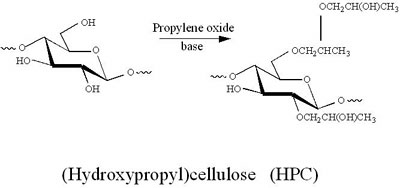 It turned out that the viscous aqueous solution of this high MW polymer posessed the optical properties of cholesteric liquid crystals.
Subsequently, we and others found that a wide range of cellulose derivatives formed both lyotropic and thermotropic chiral nematic (cholesteric) liquid crystals.
[Chiral Nematic Mesophases of Lyotropic and Thermotropic Cellulose Derivatives. B.R. Harkness and D.G. Gray, in "Liquid Crystalline and Mesomorphic Polymers", V. Shibaev and L. Lam, Eds., Springer, New York, 1994, pp 298-323.]
There have been many attempts by us and others to trap the chiral nematic structure in solid films to give coloured iridescent films.
["Selective Reflective Polymer Moulded Article and a Process for Producing the Same", S. Shimamoto and D.G. Gray, U.S. patent 6,007,738 Dec 28, 1999, to Daicel and Paprican.]
Home